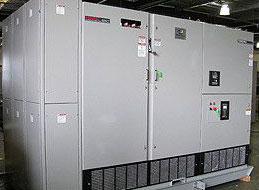 New, used or refurbished, RESA Power Systems can custom meet your needs. We offer a wide range of low and medium-voltage motor control centers and components and can design a custom UL 508A-listed front panel to your specifications, matching it with the appropriate motors, starters and buckets.
Low Voltage Motor Control
RESA specializes in low voltage motor control. If you need an open starter to a custom controller, we can help you. We have a UL 508A listing for all our control panels built to your specifications. We stock a large inventory of Variable Frequency Drives, Soft Starters, and Motor Control Centers.
RESA is an original equipment manufacturer for:
Toshiba
Motortronics
General Electric
Square D
Cutler Hammer
Medium Voltage Motor Control
RESA medium-voltage starters provide flexibility never before available. Rated at 2200 – 7200 volts and up to 8000 HP, we have complete units precisely matched to motor ratings and engineered to provide front accessibility of all components and terminals. No matter what your starting application needs are, we have a solution.
Full Voltage Starters
Soft Starters
Variable Frequency Drives
DO YOU NEED HELP?
With distribution and manufacturing centers located across the United States, RESA provides service and support to clients in every major metropolitan area.