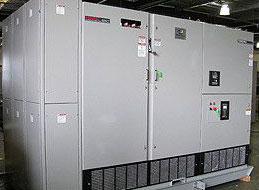 New, used or refurbished, RESA Power Systems can custom meet your needs. We offer a wide range of low and medium-voltage motor control centers and components and can design a custom UL 508A-listed front panel to your specifications, matching it with the appropriate motors, starters, and buckets.
Let RESA Power Support All of Your MCC Motor Control Needs
Streamline power systems management and prevent safety hazards and interruptions with a custom-built motor control center from RESA Power. Motor control centers (MCCs) help to consolidate the operation of multiple motors for commercial and industrial applications, from paper production to mining operations, and allow the safe and secure control of your power systems without a loss of power. RESA Power's motor control centers not only increase safety levels with arc fault containment measures built in, but they can also boost the reliability of your power system overall with load-shedding software that works to prevent overloads.
Your custom pre-assembled, pre-tested RESA Power MCC will meet all industry compliance and safety standards, as well as your unique space requirements, and is ready for use as soon as it's installed. Our engineers design MCCs with additional space to account for system growth and motor additions in the future, so you can focus less on frequent equipment upgrades and more on business.
Whether low or medium voltage, we can provide the motor control center and associated components necessary for your load management needs, such as contactors, motor starters, and frequency drives. RESA Power also provides emergency maintenance and repair services for all manufacturers' equipment, so you can trust that you'll never be left in the dark in the event of an equipment malfunction. Learn more about our emergency maintenance services and view our inventory of motor control components.
Low Voltage Motor Control
RESA Power specializes in low voltage motor control. If you need an open starter to a custom controller, we can help you. We have a UL 508A listing for all our control panels built to your specifications. We stock a large inventory of Variable Frequency Drives, Soft Starters, and Motor Control Centers.
RESA Power is an original equipment manufacturer for:
Toshiba
Motortronics
General Electric
Square D
Cutler Hammer
Medium Voltage Motor Control
RESA Power's medium-voltage starters provide flexibility never before available. Rated at 2200 – 7200 volts and up to 8000 HP, we have complete units precisely matched to motor ratings and engineered to provide front accessibility of all components and terminals. No matter what your starting application needs are, we have a solution.
Full Voltage Starters
Soft Starters
Variable Frequency Drives
DO YOU NEED HELP?
With distribution and manufacturing centers located across the United States, RESA provides service and support to clients in every major metropolitan area.